CLS Hosting Service for RUDICS Platforms
CLS is the only Iridium VAR that offers a dedicated hosting service for platforms using Iridium RUDICS communications, allowing users to easily and securely manage their communications with the platforms. CLS takes responsibility for data security, storing it in our processing center which benefits from active redundancy. Downloading data files and uploading mission files is easily carried out via SFTP. Initially developed for Argo floats, this solution is now available to all types of platforms using RUDICS communications.
RUDICS data hosting by CLS
This service is managed by CLS data processing center, monitored 24/7, with active redundancy on 2 separate backup processing centers, to ensure a maximal efficiency and data safety.
No need to open a RUDICS account (saves 2200 EUR)
Advice from our experts to help you set up your service
100% compatible with all types of platforms
Maintenance-free (backup, software & hardware upgrades, internet connection, etc.)
No need to develop an interface to handle communications & data files
Error-proof: permanent automatic archiving of all files
Maximum safety: server monitored and 24/7 back-up; 4 independent internet providers at CLS; Backup power generator
Quick activation of the service (vs. up to 2 weeks to register a RUDICS account)
CSD line for backup data calls
Easy access to data through SFTP accounts
CLS dedicated & expert customer support
Detailed user's guide provided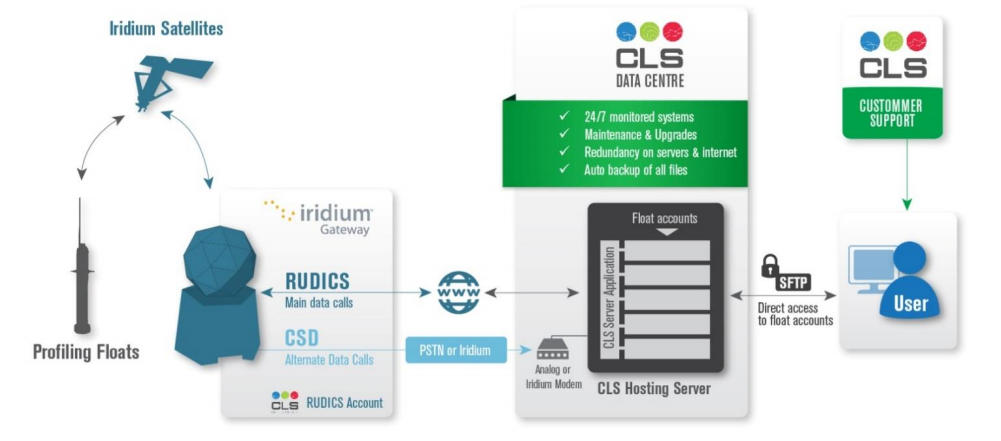 The solution relies on CLS' expertise with Iridium RUDICS communication and satellite systems, and on our long-lasting collaboration with the scientific community and float manufacturers. CLS hosts data more than 350 Argo floats from the organizations listed in our references below.